Description
300 win mag ammo
Many people use the flat shooting and hard hitting .300 Win Mag for hunting elk, deer and many other species of big game with excellent results. Here are a few great brands of .300 Win Mag ammo that will probably serve you very well next time you're afield.
The .300 Winchester Magnum cartridge exploded onto the scene in the 1960s and quickly surpassed older .30 caliber magnum rifle cartridges like the .300 Weatherby Magnum and .308 Norma Magnum in popularity. It has also displayed a lot of staying power and remains a favorite among hunters all over the world to this day. For that reason, just about every big manufacturer like Barnes, Black Hills, Federal Premium, Fiocchi, Hornady, Norma, Prvi Partizan (PPU), Sellier & Bellot, Sig Sauer, Remington, and Winchester produces several different variants of .300 Win Mag ammo for hunting elk, deer, moose, bear, and many other big game animals.
Known for being really accurate, having a flat trajectory, and for retaining lots of kinetic energy at extended range, versatility is the name of the game with the .300 Win Mag and it's well suited for hunting a wide range of big game at short, medium, and even long range. However, different situations (like deer or pronghorn at long range vs moose at short range) necessitate the use of different kinds of .300 Win Mag ammo for best results.
While they are very accurate and are certainly capable of killing big game animals, I don't recommend using bullets designed for target shooting like the Hornady ELD Match and Sierra MatchKing hollow point boat tail (HPBT) for hunting because they usually aren't designed for optimum terminal performance on big game animals. The same goes for open tip match (OTM) or boat tail hollow point (BTHP) bullets.
Instead, it's best to stick with .300 Winchester Magnum ammo specifically designed for hunting that uses soft point, jacketed hollow point, or similar bullets.
Fortunately, the .300 Winchester Magnum is one of the most popular hunting cartridges in North America and there are a wide variety of .300 Win Mag factory loads specifically designed for just about every conceivable big game hunting situation. So, regardless of whether you're using a bolt action Winchester Model 70, a Remington Model 700, a Ruger Hawkeye, a Savage 110, a Mauser M18, a Weatherby Vanguard, or some other hunting rifle, there is pretty much guaranteed to be something for everyone on the list below of the best .300 Win Mag ammunition for hunting.
In today's post, I'm going to show you the best .300 Win Mag ammo for hunting elk, deer, feral hogs, black bear, and all sorts of other big game and go over the pros and cons of each individual load.
Click the link below if you just want to quickly check what 300 Win Mag ammo is in-stock and ready to ship so you can hit the range and get ready for hunting season.
Note: some of the links below are affiliate links. This means I will earn a small commission (at no extra cost to you) if you make a purchase of rifle, handgun, rimfire, or shotgun ammunition through those links. This helps support the blog and allows me to continue to create free content that's useful to hunters like yourself. Thanks for your support.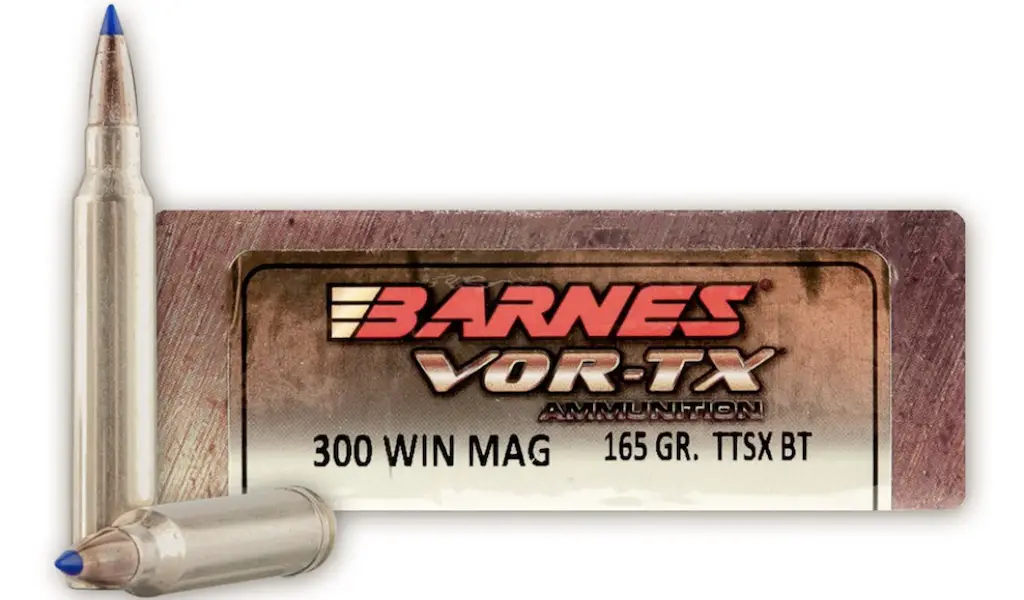 If you're a hunter who loves Barnes bullets, then you're in luck because Barnes produces some great .300 Win Mag ammo as part of their VOR-TX line. Featuring their legendary copper Tipped Triple Shock X (TTSX) bullet, this ammunition is designed for rapid expansion, high weight retention, and deep penetration. Available using 150 grain, 165 grain, or 180 grain .30 caliber bullets, Barnes offers three outstanding choices for hunters regardless of what they're after.
The 180 grain load is quite possibly the best .300 Win Mag ammo for elk, bear, and moose hunting. The 165 grain load will also work for larger game like elk, but it's perfect for bigger deer and bear. That high velocity 150 grain load is great .300 Win Mag ammo for deer and pronghorn hunting, especially for hunters who want a couple hundred extra fps and a really flat trajectory to minimize their holdover for a longer shot. All that being said, there's certainly a lot of overlap on the acceptable hunting uses for those three bullet weights as well.
All three loads are also 100% copper, which makes them an ideal choice of .300 Win Mag hunting ammunition for use in states like California that that don't permit the use of lead bullets.
Though I've since switched over to Federal Premium Trophy Copper ammo (next on this list), the Barnes VOR-TX line is still great ammunition and was my personal favorite .300 Win Mag ammo for a long time. I used that 165 grain load with a lot of success on both deer and pronghorn over the past few years and this ammo is also a favorite among many North America, New Zealand, and Africa hunting outfitters.
Bullet Type: TTSX Boat Tail
Bullet Weight: 150 grains, 165 grains, or 180 grains
Ballistic Coefficient (G1): .420 (150 gr), .442 (165 gr), .484 (180 gr)
Muzzle Velocity: 3,285 feet per second, 3,120 feet per second, or 2,960 feet per second
DETAILS & SPECS
REVIEWS
Q&A
Take down the big bucks on your next deer hunting trip with the Winchester Deer Season XP 300 Blackout 150-Grain Rifle Ammunition. Each bullet features a large-diameter polymer tip to create rapid expansion upon impact.
Features and Benefits
Designed for deer hunting with massive knockdown power
Contoured jacket features a tapered profile for fast expansion and terminal penetration on deer
1,202 ft.-lb. muzzle energy
Large-diameter polymer tip accelerates bullet expansion upon impact
Streamlined ballistic profile provides improved downrange performance
300 Blackout caliber
1,900 fps muzzle velocity
150 grains
20-round box
Alloyed lead core is optimized for energy transfer and impact power
Specifications
Caliber: 300 Blk
Number of rounds: 20
Species: Deer
Grain weight: 150
What's in the Box
Winchester Deer Season XP 300 Blackout 150-Grain Rifle Ammunition
Important Product and Safety Information
You must be 18 or older to purchase Rifle or Shotgun Ammunition and 21 or older to purchase Handgun Ammunition. In ordering this product, you certify that you are of legal age and satisfy your jurisdiction's legal requirements to purchase this product.
For safety reasons, we do not accept returns on ammunition. Always make sure you use the correct ammunition for your specific firearm.
The sale or shipment of this product to residents of certain jurisdictions is prohibited. Check your local laws before ordering this product. Check your local laws for any other regulations.
We recommend the use of protective eyewear whenever using or near the use of this 300 win mag ammo